Straddling the Buffalo River as it sculpts its way down from the alpine peaks to Myrtleford, the scenic Buffalo River region, with its beautiful Lake Buffalo and bushland hamlet of Nug Nug, makes for an idyllic scenic drive or bike ride, and is a great spot for camping, fishing, swimming and watersports.
Things to Do in Buffalo River & Nug Nug
Whether it's fishing, boating, swimming, waterskiing, or having a BBQ by the water's edge while the kids play in the playground, the picturesque Lake Buffalo, with its shade trees and views of Mount Buffalo, is always a pleasant spot to spend the day. Located at the end of Buffalo River Road, 22km southwest of Myrtleford, the scenic drive to get there is equally as lovely.
Scenic Drive or Ride, Buffalo River
Rolling pastures, rocky mountains, apple orchards and hops farms alongside the babbling river; the 22km (44km return) drive or bike ride along Buffalo River Road from Myrtleford to Lake Buffalo is an enjoyable scenic escape from town. Bring along a picnic to have at Lake Buffalo and you've got the perfect day out.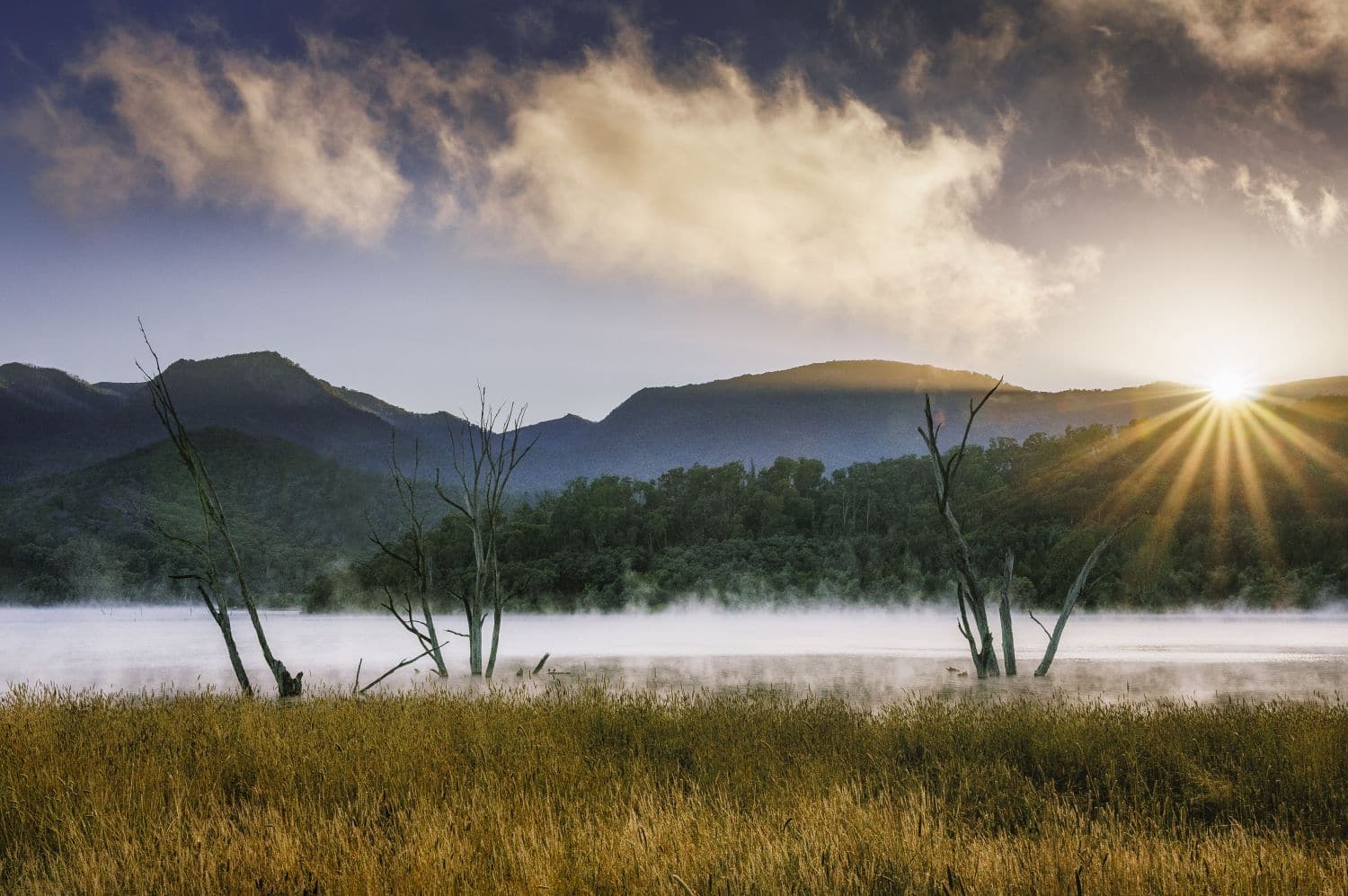 Buffalo River, Lake Buffalo and Rose River – located just beyond Lake Buffalo – are fantastic spots to fish for trout, and the rivers are especially good if you enjoy fly fishing. You'll find a fishing spot with good river access and a picnic table on the Buffalo River at Nug Nug (13.5km from the turn-off at Myrtleford), while more remote spots can be found along the Rose River. Lake Buffalo is particularly good if you plan to fish from a boat or canoe.
Off Roading, Buffalo State Forest
Buffalo State Forest in Dandongadale at the end of Buffalo River Road, is the gateway to many mountain tracks that make for great 4WD and dirt biking adventures. From the State Forest, you can follow dirt roads that lead just about anywhere, like through Abbeyard into the Alpine National Park; up to Dandongadale Falls, Lake Cobbler and Mount Cobbler; up around the back of Mount Buffalo to the Buckland Valley; or over to Whitfield and the King Valley. Make sure to carry a detailed off-road map and plenty of supplies into this remote area.
Nug Nug Reserve Camping Ground, located about halfway between Myrtleford and Lake Buffalo, is a basic campground with toilets, cold showers, unpowered campsites and a few powered sites. The campground is located off Jurisichs Road. Fees apply.
A number of bush camping sites – Blades, Tea Tree, Manna Gum, Abbeyards, and McIver campsites – can be found in the Buffalo State Forest along Abbeyards Road, which starts at the end of Buffalo River Road. For maps and more information, download the Department of Environment, Land Water and Planning's More to Explore App.
Extend your time in this quiet pocket of Victoria's High Country with a comfortable farm stay at the Nug Nug Park Log Cabin or the Nug Nug Wah Homestead. Located just 13km from Myrtleford, Nug Nug is an easy drive into town, or just 10km to Lake Buffalo.
Swimming Spots
From a dip in the river to a splash in the lake, we share Myrtleford's best natural swimming spots to keep you cool on a hot day.