There's nothing like the taste of a fish so fresh it practically jumped out of the river and onto your frying pan. The rivers and lakes surrounding Myrtleford are filled with trout as well as species like redfin and perch, and catching them is half the fun. Here are some good places to cast a line.
Barwidgee Creek, Myrtleford
This little fishing spot at the northern end of Rotary Park in Myrtleford carries brown trout, rainbow trout, blackfish and some small redfin. It is best fished early in the season when the water levels of this shallow spot flow well.
A pleasant trout fishing spot with a flat bank and easy access to the Buffalo River. The site, located 13.8km along Buffalo River Road from Myrtleford, has picnic tables, woodfire BBQ and parking.
Nimmo Bridge Reserve on Buffalo River Road, Myrtleford, provides good access to the Ovens River for trout fishing and is easily accessed by car. This area is also a popular swimming spot with plenty of parking. Picnic tables and toilet facilities are located across the road at Apex Park.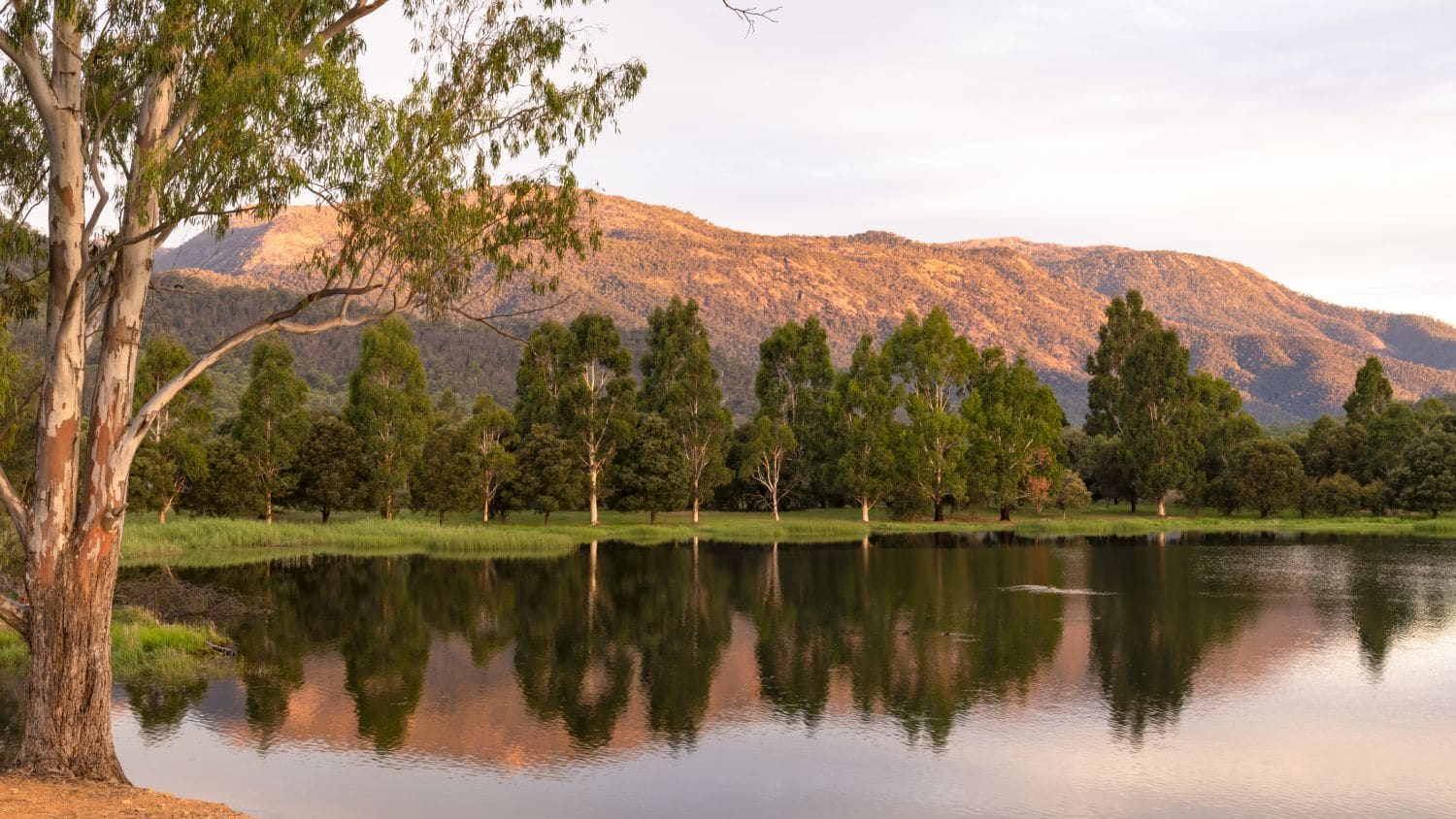 Lake Buffalo, Buffalo River
Lake Buffalo is a great fishing spot for those who like to get out on the boat and it's just a 20 minute drive from Myrtleford. The lake – a deep storage dam of almost 25,000ML capacity – is home to brown trout (up to 2kg), rainbow trout, redfin, golden perch, Macquarie perch (protected), trout cod (protected) and Murray cod. Lake Buffalo, managed by Gouldurn-Murray Water, has a boat ramp, picnic tables, BBQs, playground and public toilets.
Fly fish from the riverbank or drop a line from the jetty or a canoe and enjoy the serenity of this lovely dam high on the Mount Buffalo Plateau. The lake has a self-sustaining population of brown trout of up to 350g that spawn in Eurobin Creek.
A Recreational Fishing Licence is required for anyone aged between 18 and 70 who would like to fish in Victorian waters. Licences can be purchased online from the Victorian Fisheries Authority and start at $10 for three days.
Fishing for trout and salmon in rivers or streams during the breeding season is prohibited. The closure comes into effect on the Queens Birthday weekend at the start of June each year and remains in place until the first weekend in September. Anglers can continue to fish for trout and salmon in Victorian lakes and reservoirs, which remain open year round. More information about closures is available from the Victorian Fisheries Authority.
Limits on the number of fish you can catch and their size help to preserve our fish for the future. Please familiarise yourself with the catch limits in the VFA's Victorian Recreational Fishing Guide.
Farm Gates
We share the places where you can buy right from the source.