Mount Buffalo National Park

The sheer granite cliffs, boulder-strewn plateau, and cascading waterfalls of Mount Buffalo form what is one of the oldest National Parks in Australia. Snow covered in winter, you can toboggan, snowshoe and cross-country ski. Come summer, when the wildflowers bloom, the swimming holes and hiking trails spring to life. And the views, well you'll just have to see them to believe.
About Mount Buffalo National Park
Mount Buffalo National Park, formed in 1898, protects around 550 species of native plants and is home to native animals, such as wombats, lyre birds, kestrels, alpine dingoes, possums, sugar gliders, kangaroos and wallabies. Some species, like the alpine silver xenica butterfly and the Buffalo sallee tree, live solely on this mountain.
The park has over 90km of walking tracks that take you through forests of alpine ash and snow gums, amid giant boulders, along clifftops and over meadows to marvelous waterfalls and sublime lookouts. While the old Mount Buffalo Chalet – Australia's largest wooden building, built in 1910 – currently sits dormant, it is still possible to admire the building from outside.
Visitors to Mount Buffalo will find guided outdoor adventure activities, picnic areas and a camping area with BBQ and toilet facilities at Lake Catani. Campsite bookings are essential.
Dingo Dell has a seasonal cafe open during school holidays and throughout the snow season and toboggans and snowshoes can be hired here. A coffee cart can be found at The Gorge Lookout during summer and autumn.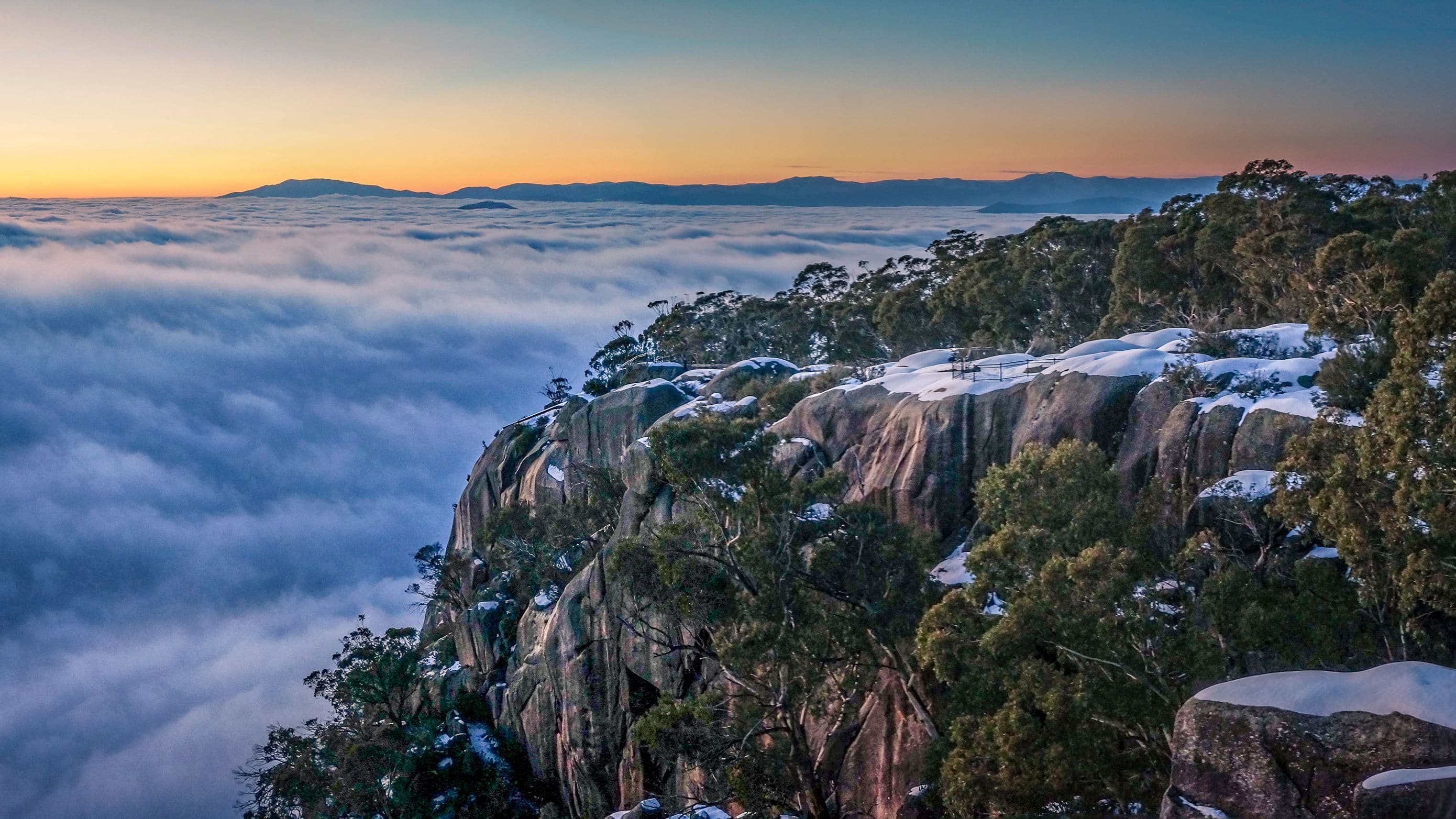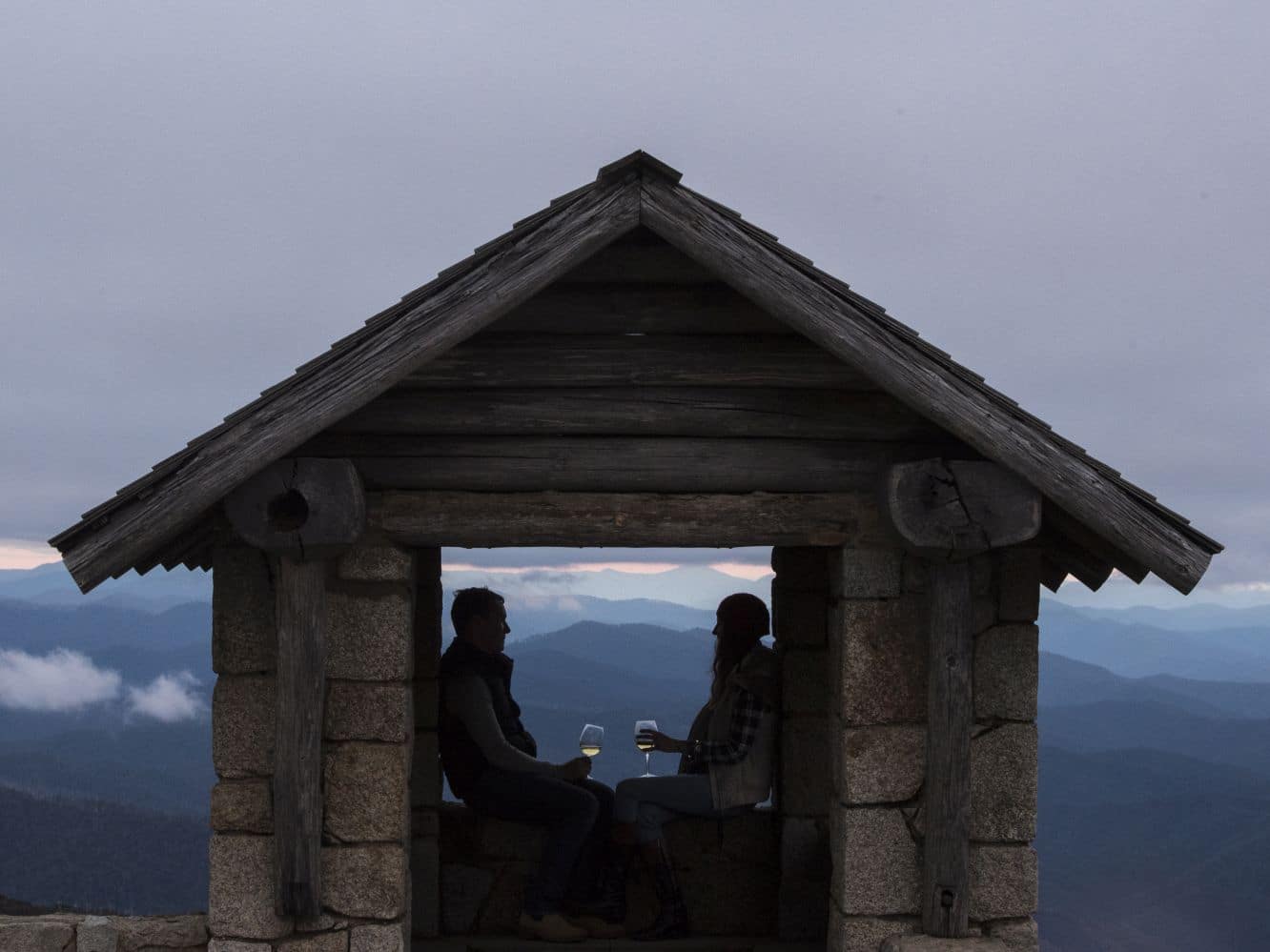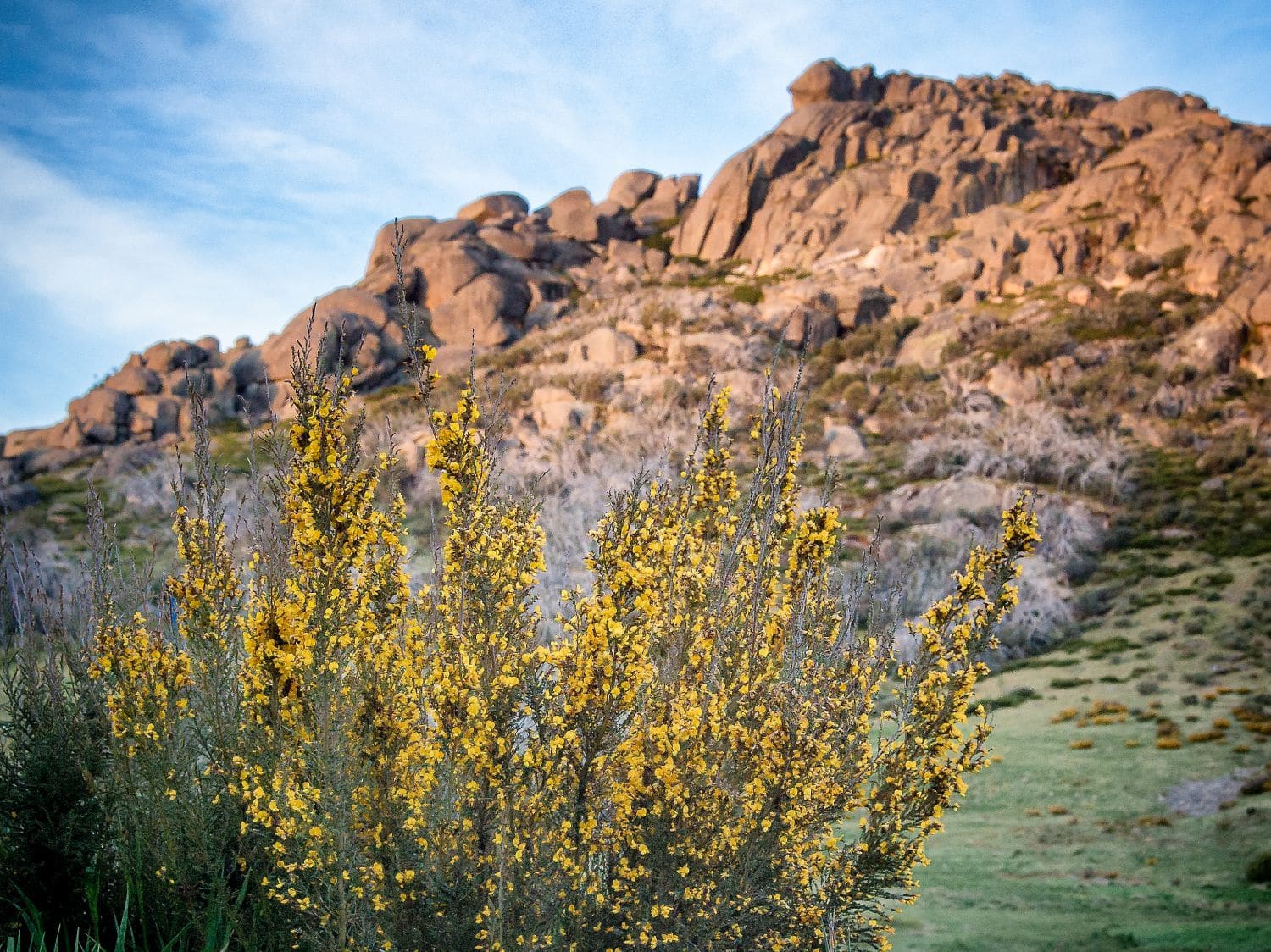 Mount Buffalo National Park is a 50km from Myrtleford, travelling southeast along the Great Alpine Road then exiting onto Mount Buffalo Road at the roundabout in Porepunkah.
Mount Buffalo Road is the only sealed road in and out of the park and the mountain's main walks, lookouts, toboggan slopes and picnic areas are easily accessible from it. The road beyond Dingo Dell up to The Horn – Mount Buffalo's highest point – closes to vehicles during the snow season and converts to a groomed cross-country ski trail.
Please note: It's mandatory to carry snow chains into alpine areas during the snow season. Snow chains can be hired in Myrtleford, Ovens and Porepunkah prior to driving up the mountain.
From snow to bushfires, floods and gale-force winds, the weather in the High Country can be fierce and change rapidly. Always check conditions before venturing out, ensure your equipment is working and carry adequate food, water and warm clothing. Importantly, download the VicEmergency and the Emergency Plus apps to your phone.
Notify someone of your plans before you set out. Many parts of the High Country have poor or no mobile phone coverage. Emergency beacons and satellite devices are recommended for your safety.
Our region is sensitive to human presence. We are privileged to have endangered animals such as platypus, pygmy possums and alpine dingoes surviving in our environment. Your behaviour has a direct impact on our flora and fauna. When driving or riding, stay on formed roads and don't cut new lines. Protect our wildlife and the beauty of our environment by taking all rubbish with you.
Never light a fire on a Total Fire Ban day. When permitted to use fire, always extinguish your campfire completely before you leave. Enjoy our outdoors, and remember, leave no trace.
Outdoor Adventures
Here's where to find Myrtleford's walking trails, swimming spots, lookouts and campsites.