Glide peacefully across the water in a kayak high up on the Mount Buffalo Plateau, or thrash about on water skis down in the valley. The lakes and rivers around Myrtleford come alive in summer. Here's what you need to know.
Explore the Ovens River around Myrtleford on a three-hour guided kayaking tour with Adventure Guides Australia. With beginner level 1 and 2 rapids, this section of the Ovens River is a wonderful place to learn to whitewater kayak while enjoying the scenery of the High Country. Tours suitable for ages 12 and up.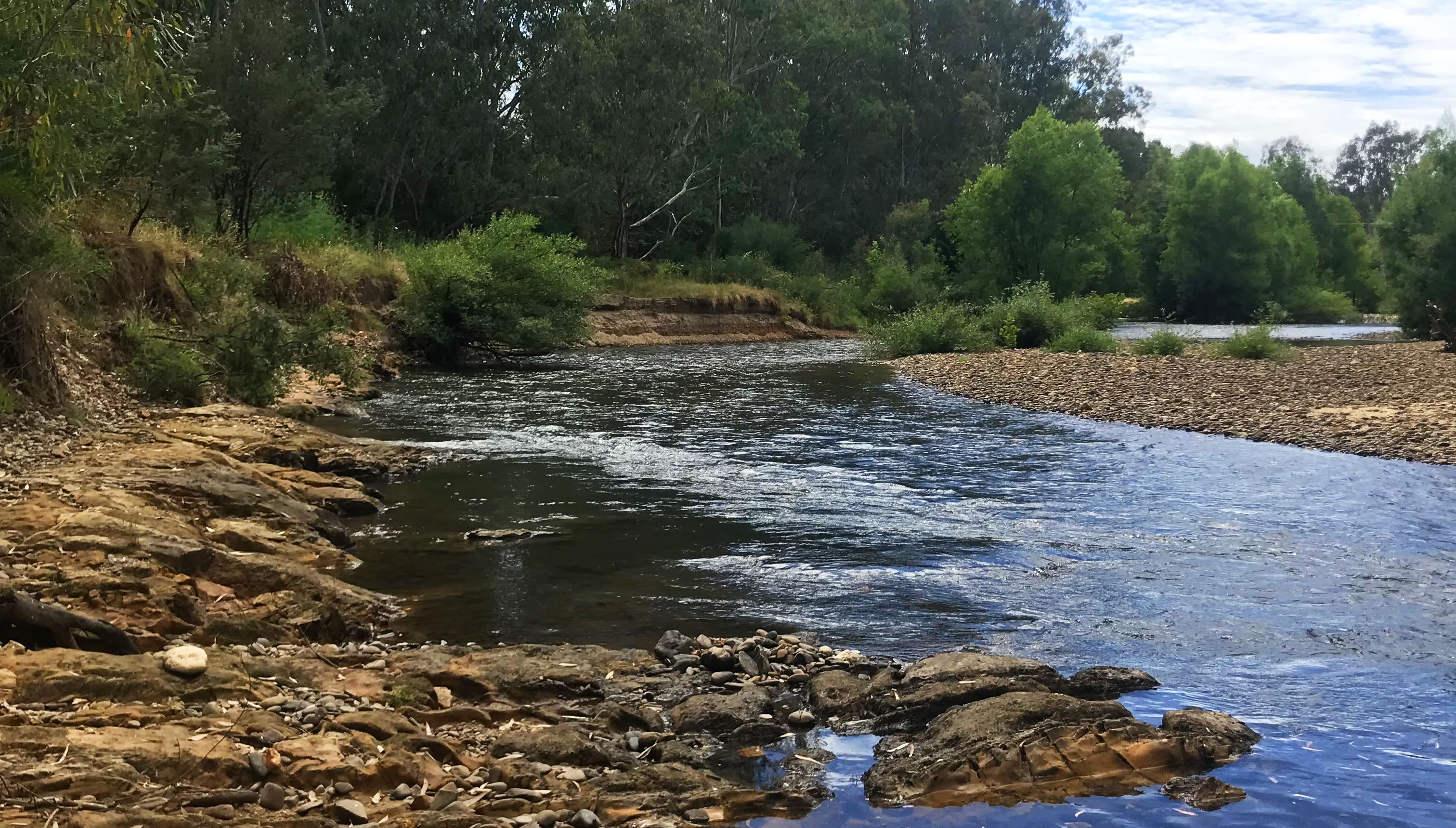 Lake Buffalo, resting at the western foot of Mount Buffalo National Park, is a scenic dam suitable for a wide variety of watersports, including boating, fishing, waterskiing, jet skiing, canoeing, kayaking and paddleboarding – just a 20 minute drive from Myrtleford. Managed by Goulburn-Murray Water, the dam has a capacity of almost 24,000ML over 340ha and regulates the waterflow into the Ovens River for farm irrigation. It also has a boat ramp, picnic tables and public toilets, making it a great spot for a day out.
For everyone's safety, a 5 knot speed limit applies whenever your vessel is within 60m of the water's edge, other vessels, navigation aids, swimmers and fixed or floating structures, or within 100m of vessels displaying a dive flag. Water levels fluctuate and parts of the dam have submerged objects. Please keep a lookout at all times for hazards and other vessels.
If the vessel you are using is powered by a motor, your vessel must be registered with Maritime Safety Victoria and you'll also need a Recreational Boating Licence to operate it. More information about registration and licencing is available on the Maritime Safety Victoria website.
Kayaking, Canoeing & Paddleboarding
Lake Catani in Mount Buffalo National Park is a magical spot for a quiet paddle in a canoe, kayak or paddleboard. The lake, which is a 50 minute drive from Myrtleford, sits high on the Mount Buffalo Plateau and is suitable for swimming and non-powered watercraft in the warmer months when snow and freezing temperatures aren't prevalent. If you don't have your own vessel, canoe hire is available through the centre at Dingo Dell during the summer holidays, or you can book a kayaking tour with Adventure Guides Australia.
Accommodation You'll Love
Cellar Doors & Brewery
Taste our award-winning wines and small-batch craft brews.