Whether you're looking for a refreshing dip in the Ovens River, a splash at the local swimming pool, or a paddle in the lake, there's a swimming spot that's perfect for you in Myrtleford and its surrounds.
Places to Swim in Myrtleford
Swimming in the Ovens River
There are two popular natural swimming spots along the Ovens River in Myrtleford. The first is Barwidgee Creek at the northern end of Myrtleford's Rotary Park off the Great Alpine Road. This area used to be known as Myrtle Creek – named after the myrtle trees growing there – and was once used by gold miners. These days it is a beautiful natural swimming area to relax and cool off in.
Another popular river swimming spot in Myrtleford is at Nimmo Bridge Reserve. It's located right across the road from Apex Park, which has a picnic area, barbecue facilities and public toilets.
Please note, these natural swimming spots do not have lifeguards and may not always be suitable for swimming, especially in winter or after heavy rains when water may be high, fast flowing and contain lots of submerged and moving debris. Always check conditions carefully before entering a river.
Myrtleford Swimming Pool on Standish Street has three outdoor chlorinated swimming pools: a toddler pool, intermediate pool and a 25m main pool. Open in the warmer months between November and April, it's a safe and fun place for the whole family to swim, with lifegurads on duty, shade and grassy areas to rest, and a kiosk. Lap swimming is available. Please check with the centre for lap lane availability.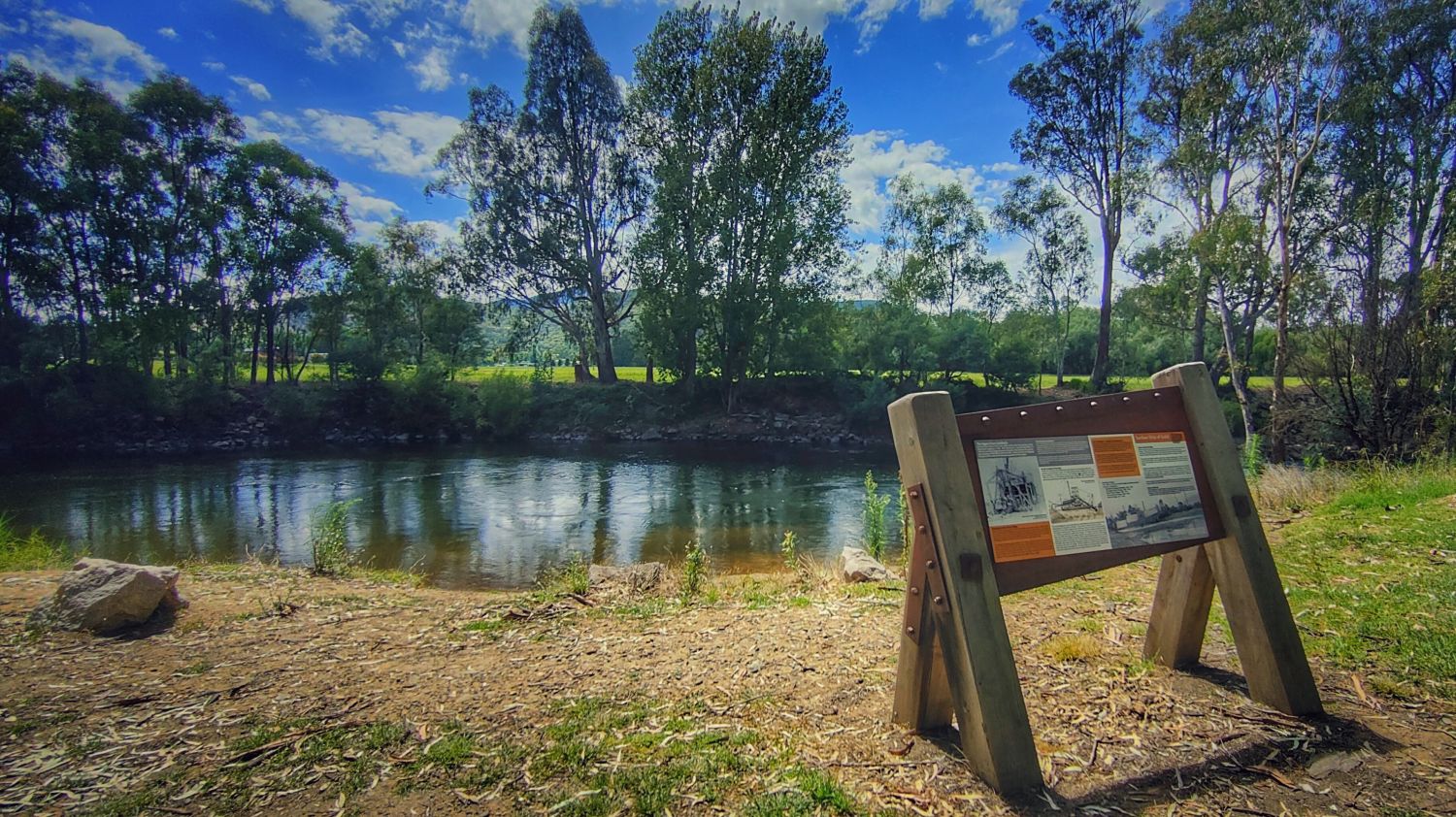 Places to Swim in the Surrounds
The beautiful Lake Buffalo is located on the Buffalo River, 24km south of Myrtleford. Resting at the foot of the western slopes of Mount Buffalo, this lovely lake is a refreshing place to cool off, with shaded parkland, picnic tables, playground, BBQs and public toilets. It's also a popular place for watersports, including kayaking, paddle boarding, boating, water skiing and fishing. While Lake Buffalo looks serene in its natural setting, it is actually a 340ha dam managed by Goulburn Murray Water. It was built in 1965 to regulate the flow of water into the Ovens River for farm irrigation. Please note, camping is not permitted.
Lake Catani in Mount Buffalo National Park is a stunning place to swim in the warmer months when the Buffalo Plateau isn't covered in snow and ice. The water up here is always refreshing on a hot day and it's also possible to hire kayaks for some added adventure. The lake has a jetty, picnic tables, BBQs, and public toilets, and the adjacent Lake Catani Campground is a fantastic place to spend the night in summer.
Fishing Spots in Myrtleford
Go trout fishing at these great spots in and around Myrtleford.