The pristine waters of the Ovens and Buffalo rivers & tributaries are all within close vicinity to the townships of Myrtleford and surrounds. So whether it is boating, water sports, fishing or swimming you are looking for you are sure to find it close by.
Myrtleford Swimming Pool; located on Standish Street near to the caravan park and tennis courts, has a toddler, intermediate and 25m main pool and kiosk (Please check with the centre for lap lane availability). With shade and grassy areas the pool is a great place for families to spend a hot summers day. The pool is the home of the Myrtleford Amateur Swimming Club. For more information on opening times click here.
Natural Swimming - Myrtleford
Barwidgee Creek used to be known as Myrtle Creek which was used by the Beechworth miners. The creek was named after the myrtle trees growing there but was renamed. These days it is a beautiful natural swimming area for you to relax and cool off in. It's at the Rotary Park, on the Great Alpine Road.
You could also swim in the Ovens River at the Nimmo Bridge using the Apex Park changing and barbecue facilities.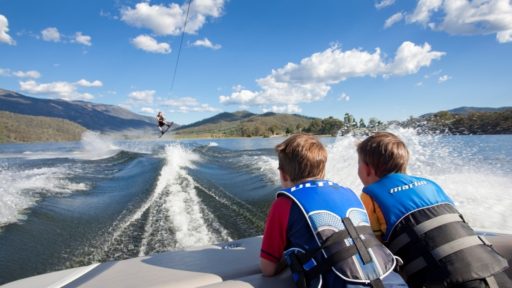 Lake Buffalo is located on the Buffalo River, 24 km south of Myrtleford. It lies at the foot of the western slopes of Mount Buffalo and this lovely lake provides ample opportunities for boating and water skiing. It is a popular choice for fishing, swimming, boating, canoeing and jet and ski boats during all warmer months. It also is a wonderful picnicking venue. There are free electric BBQ's provided, playground equipment, a boat ramp and toilets for your convenience. (No overnight camping permitted)
Fishing along the Ovens River
Great fishing spots near Rotary Park, fish for trout and cod from the banks of the picturesque park. Also try from the bridge on Seltzers Lane in Ovens for trout and cod. Fishing gear and licences can be purchased online or from Indoor Outback in Myrtleford – and ask them for their local tips!
The streams and rivers close during winter from Queens birthday weekend at the start of June to the first weekend in September. During this time, anglers can still fish for trout and salmon in Victorian lakes and reservoirs, which remain open year round.
Want to fish with an expert?
Then take one of our guided tour operators, River Escapes, who have all the local knowledge and secret fishing spots to make sure you enjoy your time fishing in our beautiful area.