From farmers markets to flea markets, bush markets and festival stalls, get to know the locals down at one of our popular Myrtleford markets and grab a bite to eat while you're there.
A genuine farmers market where everything is guaranteed to be locally grown, freshly harvested and lovingly made. Fill your basket with heirloom vegetables, fruit and summer blueberries, gourmet mushrooms, nuts, eggs, wine and preserves. Find it in the Piazza in the centre of Myrtleford on the forth Saturday of every month between 8am and12.30pm.
This eclectic market held at Myrtleford's Old School House Museum raises money to support the Myrtleford Historical Society. The market is a treasure trove of bric-a-brac, books, arts and craft, cakes, jams, preserves, clothing, jewellery, plants and fresh produce. Find it on the second Saturday of the month between 9am and 12pm from January to May, and September to December.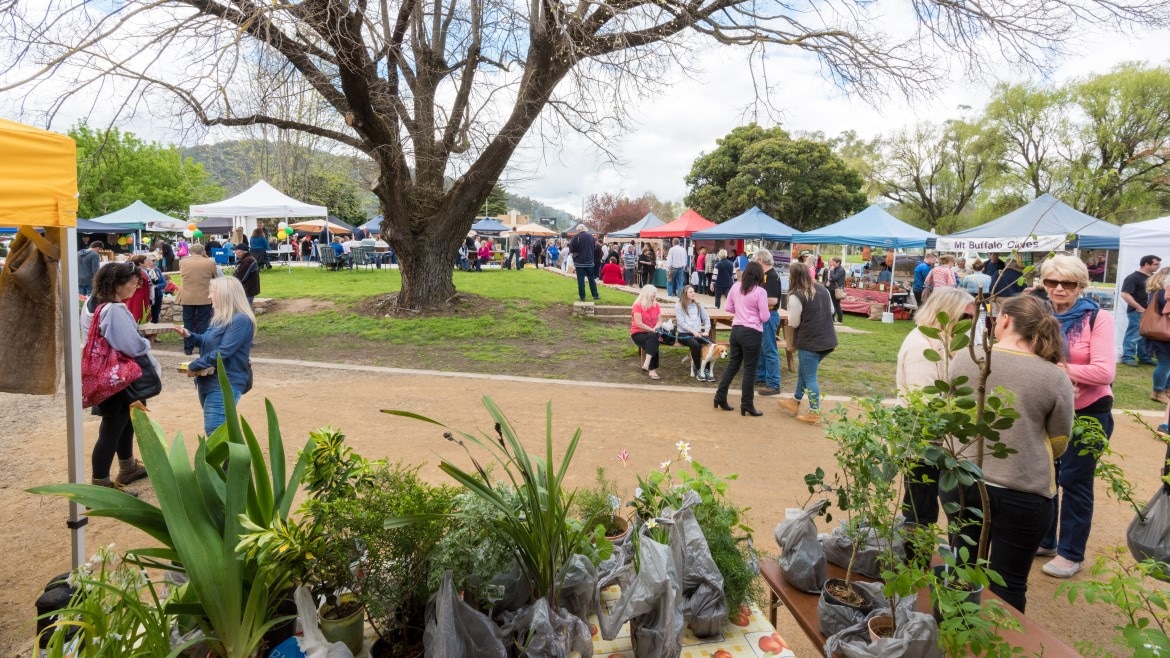 One of the biggest markets of the year, the annual Myrtleford Bush Market showcases a wide selection of local fresh produce, wine, clothing, jewellery, beauty products, tools and plants and has live entertainment and tasty food stalls. Find it at the Myrtleford Recreation Reserve on O'Donnell Ave on the first Friday of every year (except when New Year's Day is a Friday, in which case it is moved to the 2nd Friday of January).
Il Mercato is a special festival edition of the Myrtleford Farmers Market that runs in conjunction with the annual La Fiera Festival. Held on the fourth Saturday of May, head down to Myrtleford's Piazza between 8am and 12.30pm, meet the local producers, and grab yourself some Italian donuts and coffee.
Held on the March Labour Day Weekend each year, the Myrtleford Festival is one of the longest running community festivals in Australia. Its huge street market at the showgrounds showcases local and regional produce as well as gifts, clothing, jewellery and arts and crafts. Enjoy the entertainment on the big stage and a meal at the food and wine court.
On this tour of the Alpine Valleys you can tailor your visit to include 4 or 5 of the regions finest wineries and cellar doors. Pick up from your accommodation in the morning is around 10.00am and drop off around 5.00 – 5.30pm. Your full day winery tour experience includes: • Touring is in the…
Farm Gates
We share the places where you can buy right from the source.