In the dead of night, two 'crackpots' crept along the river by torchlight and, when they were sure no one was about, mischievously installed a little mosaic of a fish under the footbridge and another of a Pokémon on a nearby rock. Soon, more mosaics appeared along the trail; a fairy here, an ant there, and people began to notice. What was going on? What would mysteriously appear next?
Myrtleford's Mosaic Trail
The Crackpots no longer need to work their magic covertly, with the community and local Council quickly embracing their creative street art and tracking them down (in small towns, it's never that hard). However, they remain guarded about their identity.
With well over 100 mosaics around Myrtleford, the Crackpots have well and truly created a legacy for the town – one built on a philosophy of 'child-like' pleasure, the joy of finding the unexpected, of stopping to notice the little things and being more aware of our place in the environment. It's about a splash of colour in places that may otherwise go unnoticed and an experience that evolves slowly.
"We wish our art to be accessible to all, a motivator to walk more, explore the natural environment and an encouragement for visitors to stop, look and linger," say the Crackpots.
"We also want it to contribute to an important discussion about reducing, reusing and recycling - all the works are created from left over tiles or broken crockery."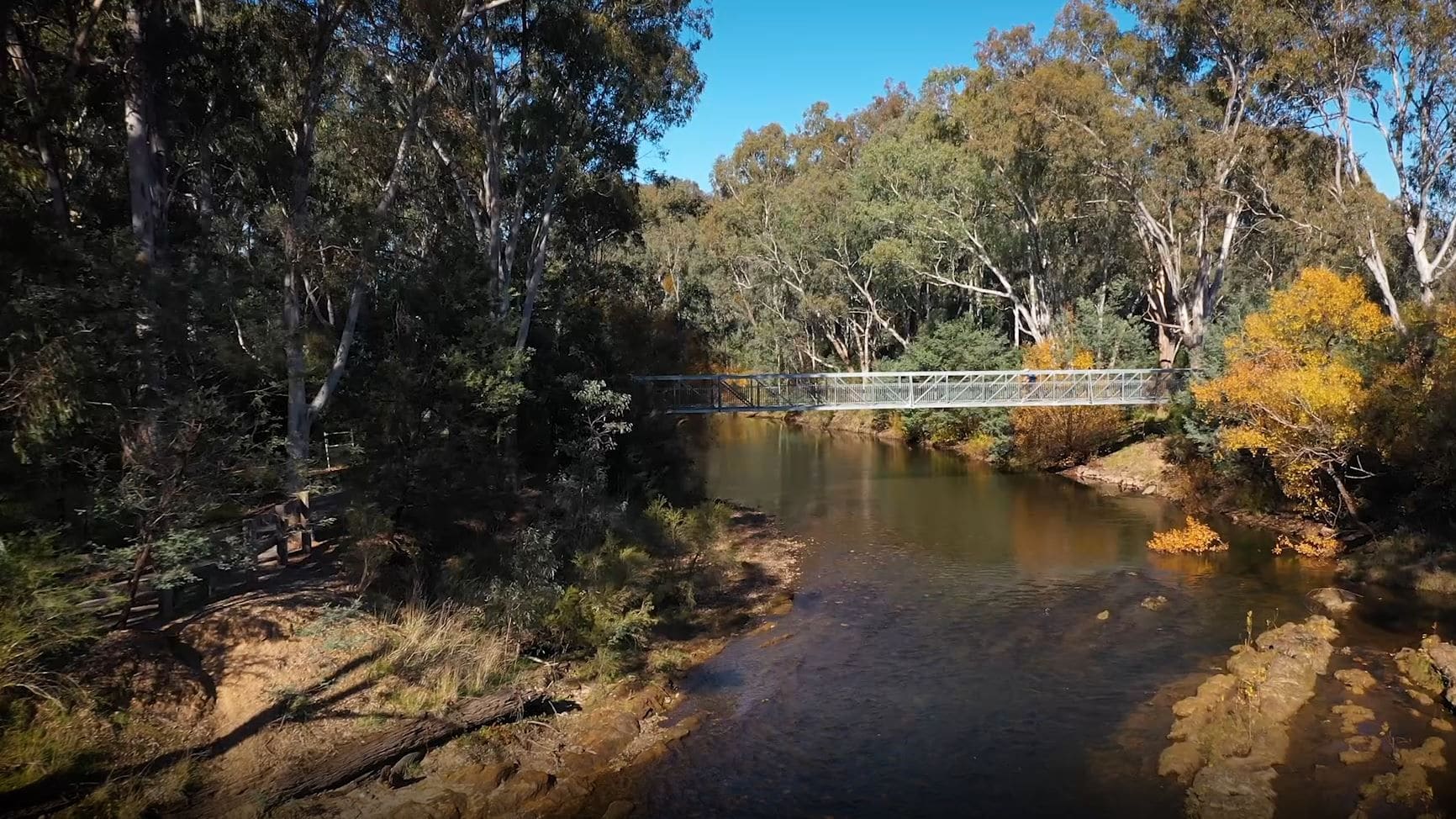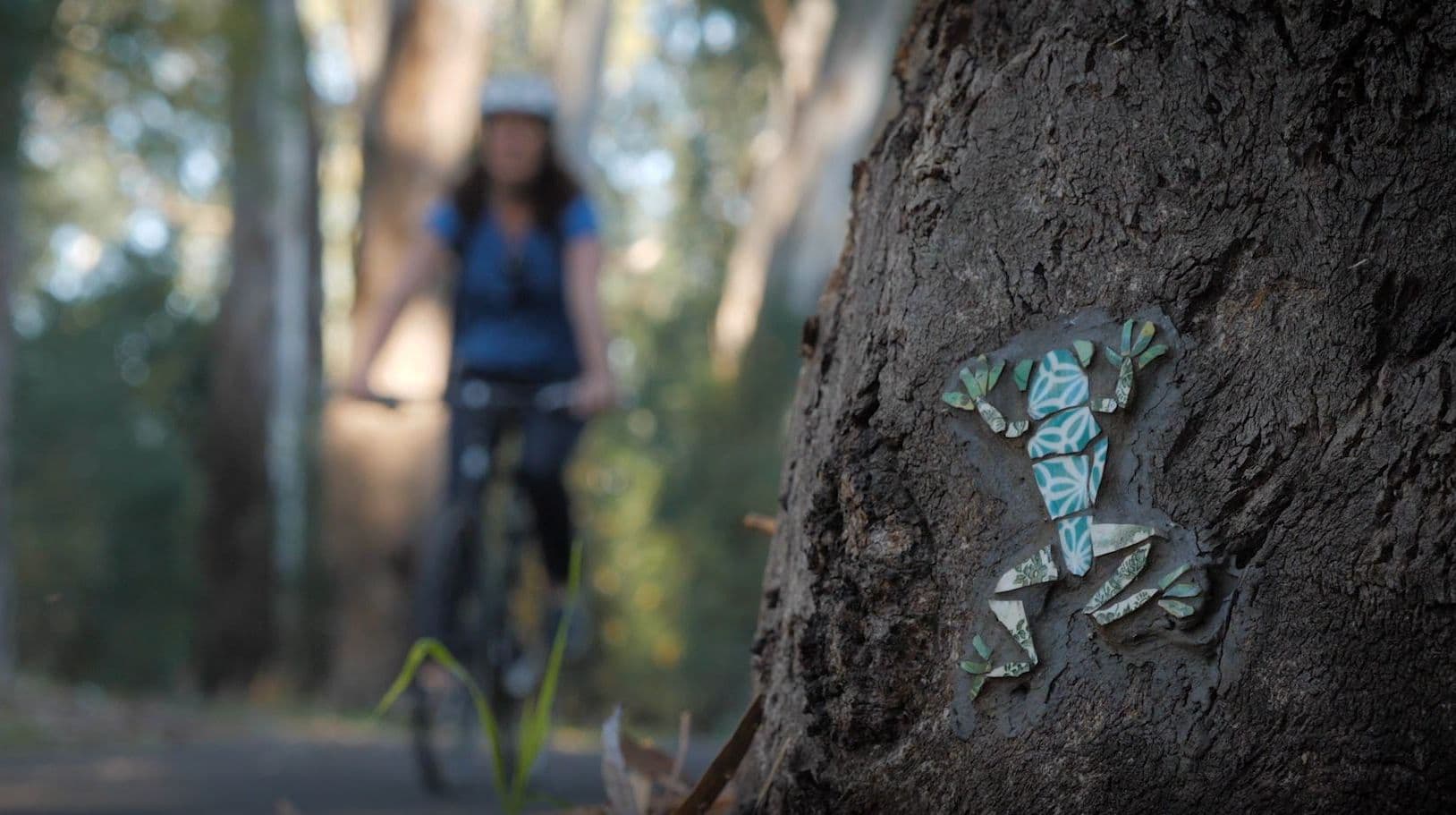 The Mosaic Trail is a 5.6km trail that starts in the town centre at the Mosaic Wall in Jubilee Park – where you'll also find a giant mosaic snakes and ladders game. The trail follows a shared path in a circuit up to Rotary Park, along the Ovens River path to Apex Park and then back to Jubilee Park via the path alongside Lewis Avenue. It's a flat, easy walk and suitable for those using mobility aids and wheelchairs. You can also ride it by bicycle, although you won't spot as many mosaics as it's one of those experiences where you're rewarded for taking your time. There are about 80 mosaics along the trail (and more throughout town as well), so keep your eyes peeled. Most of them are small and require you to take your time and observe the world around you in order to find them. Look in forgotten places such as the crevices of trees, under bridges and on rocks and you'll soon discover an enchanted world hiding in plain sight.
If you've got little ones, the Crackpots have a fabulous free Treasure Hunt for kids to play while walking the trail, with clues to where some of the mosaics are hidden. Their website also includes a geochacing game available through Adventure Lab.
Alternatively, drop into the Visitor Information Centre, Cafe Fez, Myrtleford Art Gallery or the Australian Pumpkin Seed Company and purchase a 12-page Kids' Activity Pack.
It's fair to say that Myrtleford's mosaics aren't just confined to the trail these days – look closely and you may find them just about anywhere, such as on the popular track up to the Reform Hill Lookout. This time the mosaics have a special focus on 11 local threatened species, including birds, plants, reptiles and mammals. Scan the QR code at the start of the walk for more information about the species as you walk.
La Fiera festival returns to Myrtleford in 2024. This is a celebration of Myrtleford's Italian heritage and culture featuring a range of events at various locations and businesses. Keep in touch by checking in on the website and subscribing to receive updates on program events and tickets.
Myrtleford Markets
From farmers' markets to flea markets, here's where and when you'll find them.