The serene Happy Valley, with its rolling hillsides, fertile pastures, farms and vineyards, carves its way between the Ovens and Kiewa Valleys. Just 4km south of Myrtleford, it's where you will find the villages of Ovens and Rosewhite, featuring an iconic pub, farm gate and two cellar doors.
Things to Do in Ovens & Rosewhite
The Happy Valley Hotel, built in 1854, sits at the confluence of Happy Valley Creek and the Ovens River alongside the Great Alpine Road in Ovens. Found just 4km south of Myrtleford, it's a popular spot for a classic pub lunch or dinner any day of the week.
Australian Pumpin Seed Company & Farm Gate, Ovens
The farm gate store at the Australian Pumpkin Seed Company has a wide range of local produce in addition to its own organic pumpkin seeds, pumpkin seed oil and dukkahs. Open seven days a week, it's a great place to stop for coffee, fill up your basket, and learn about why these special hull-less pumpkin seeds are different from anything you'd find in your standard supermarket.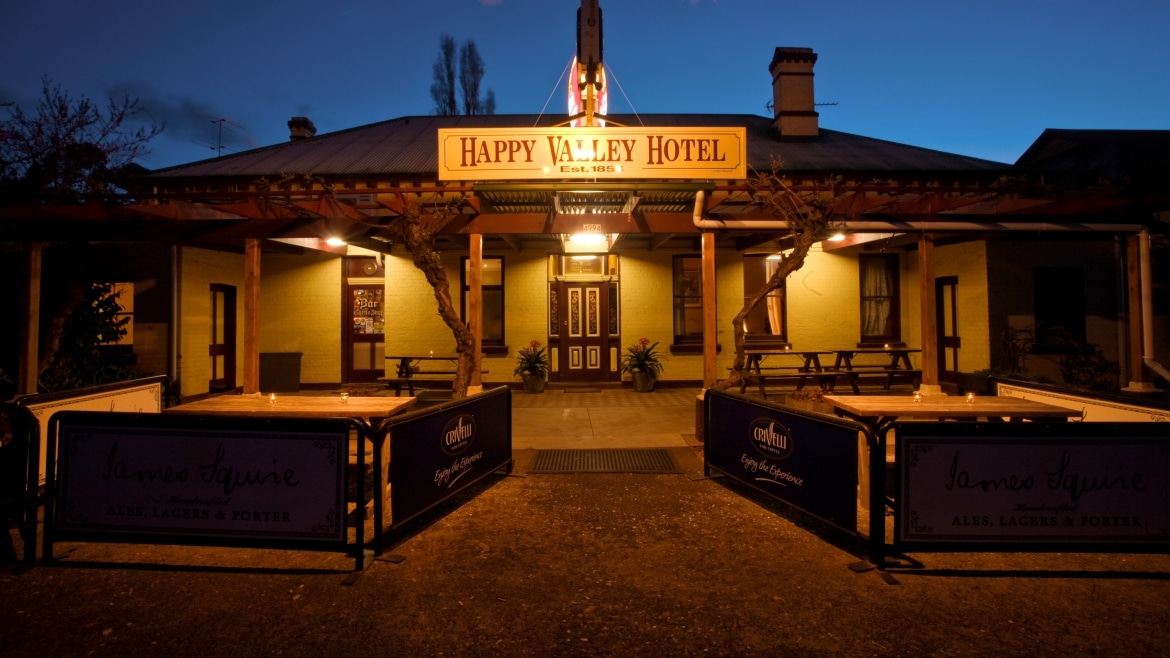 With scenic views of Happy Valley, the family-run vineyard of Eagle Range Estate grows a delightful range of tempranillo, saperavi, white frontignac, reisling, merlot and cabernet sauvignon. The cellar door, located 8km southeast of Myrtleford along Happy Valley Road, is open Wednesday to Sunday, 10am to 5pm.
The impressive 150-year old Homestead Estate, with its vineyard and olive grove, is tucked away at the eastern end of Happy Valley in Rosewhite. The estate produces cool-climate sangiovese, shiraz, savangin, rosé and fortified wine as well as award-winning olive oil. The cellar door on Happy Valley Road is open most days from 11am to 5pm.
Located at the junction of the roads that lead to Falls Creek or Mount Hotham, Happy Valley Hub is a convenient place to hire all your snow holiday gear. With the latest demo skis and snowboards for hire as well as clothing and snow chains, the Hub can have you all set-up and ready to hit the slopes as soon as you reach the mountain.
Farm Gates
We share the places where you can buy right from the source.