We look forward to welcoming you to our town. Here's a little information to help you get here and then get around Myrtleford, like on a wine tour so you can enjoy our cellar doors without the worry of driving. If you need any further information, please don't hesitate to contact us at our Visitor Information Centre.
From Melbourne, Myrtleford is a three hour drive via the M31 Hume Freeway. Take the Snow Road C522 turnoff near Glenrowan, from where Myrtleford is 25 minutes down the road. Follow Snow Road to the end and turn right onto the Great Alpine Road to Myrtleford.
From Wangaratta, Myrtleford is a 30 minute drive along the Great Alpine Road, which starts at the eastern end of Wangaratta off Parfitt Road.
From Albury, Myrtleford is a one hour drive. From the M31 Hume Highway, exit at Wodonga on the B400 and turn south onto Yackandanda-Wodonga Road. Follow this road until it meets the Great Alpine Road at Myrtleford.
Trains run daily from Melbourne and Sydney to Wangaratta Station, which is a 30 minute drive from Myrtleford. A public bus service runs from Wangaratta to Myrtleford from the bus terminal at the train station. To search the timetable, please use the Public Transport Victoria Journey Planner.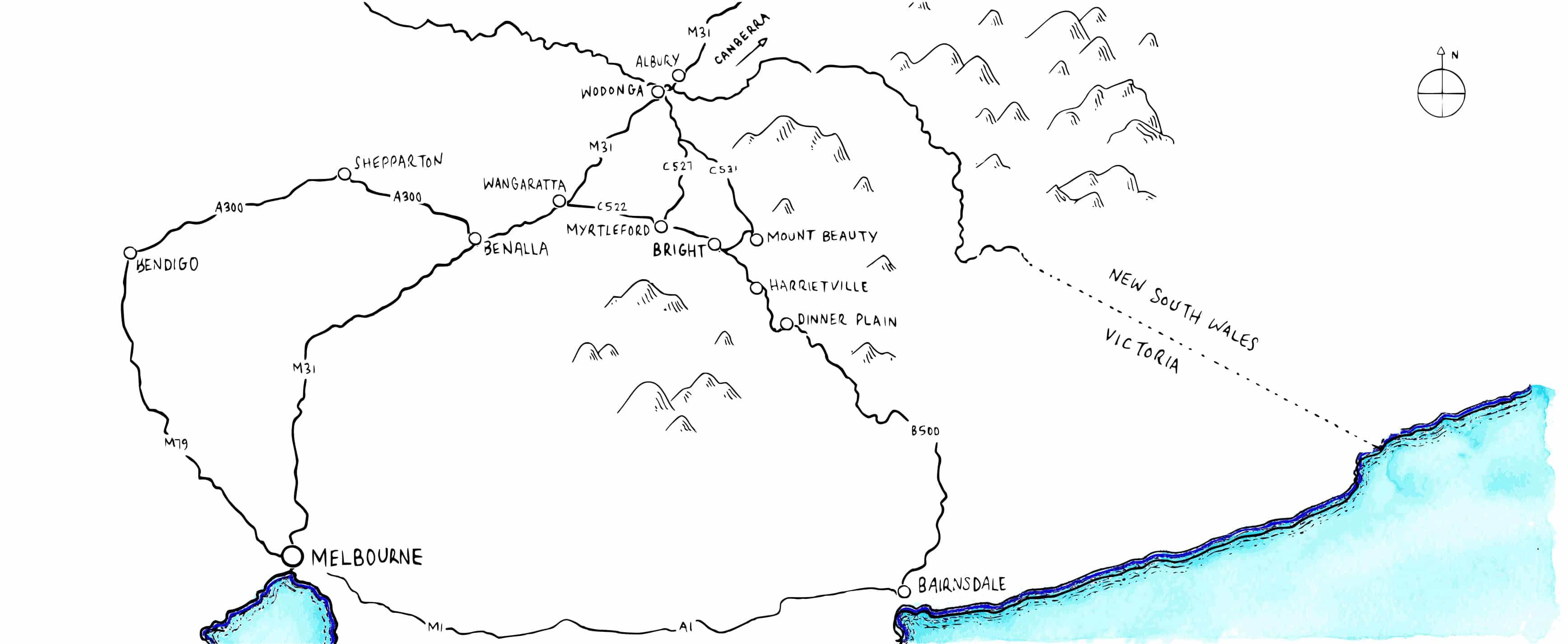 The public V/Line service runs daily buses between Myrtleford and Wangaratta Railway Station, with most services connecting with a train service to or from Melbourne. Wait times for services to and from Sydney may be longer.
A public bus service during the school term runs from Myrtleford to Albury-Wodonga each morning and Albury-Wodonga to Myrtleford each afternoon.
To find the right service for you, please use the Public Transport Victoria Journey Planner.
Alpine Spirit Coaches and Snowdog Transport run charter services all year throughout the region, including snow services in winter.
During winter, coach services operated by HothamBus and FallsBus run from Adelaide, Albury, Melbourne and Sydney to Mount Hotham and Falls Creek, including stops at Myrtleford, Bright and Harrietville.
Qantas and Regional Express (REX) operate daily flights from Sydney and Melbourne to Albury Airport, which is a one hour drive from Myrtleford. Car hire and taxis are available at Albury Airport. Alternatively, a taxi service can take you to a train station in Albury or Wodonga, or a a bus terminal to complete the journey by public transport.
Alpine Community Taxi is a metered taxi service that operates in and around Myrtleford during the day, with extended hours on Fridays and Saturday evenings. Call 0427 553 330 for bookings and enquiries.
Bicycle Hire, Transport & Tours
Myrtleford Cycle Centre provides bicycle hire and runs a number of great bicycle tours of the Myrtleford area.
Bus-A-Bike is a transfer service that caters to cyclists on the Murray to Mountains Rail Trail by providing a pick-up and drop-off service complete with bicycle transport.
A Taste of Wine Tours – don't wory about driving; this tour service allows you to enjoy a day visiting the cellar doors of our region with a local wine expert, including minibus transport.
On this tour of the Alpine Valleys you can tailor your visit to include 4 or 5 of the regions finest wineries and cellar doors. Pick up from your accommodation in the morning is around 10.00am and drop off around 5.00 – 5.30pm. Your full day winery tour experience includes: • Touring is in the…
Top 10 Things To Do
From cellar doors and the brewery to swimming spots and walking trails, here are the best things to do in Myrtleford and its surrounds.