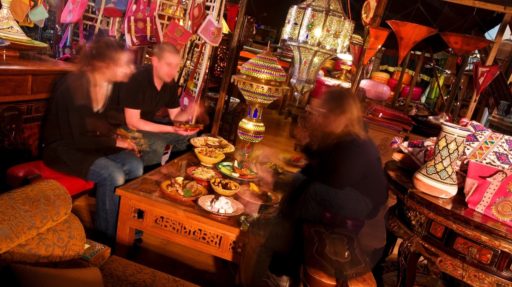 The rich soil is ideal for cultivating cool climate wines, nuts, olives and a variety of fruits and vegetables. The area is also suited to grazing with alpacas and deer popular along with cattle, sheep and goats.
The region is known for its diversity - the seasons, the landscape, the people, and of course the produce.
Myrtleford is home to many innovative and talented growers, producers, restaurateurs, chefs and foodies who are passionate about local produce. Enjoy genuine country hospitality and learn what it is like to live and eat as a local in Myrtleford.
For a true regional experience, look for handmade signs on the roadside advertising fresh produce - there are plenty to discover during your travels and it is a great way to see what produce is currently in season.
Some growers, such as Valley Nut Groves in Gapsted, offer tour of the production facilities (by appointment only Ph 0428 537 700) and many wineries offer vineyard tours for those who want to know a little more. Australian Pumpkin Seed Company for tour and tastings.
You can always head to the monthly market, to pick up local fare.  The Farmers Market is on the forth Saturday of the month.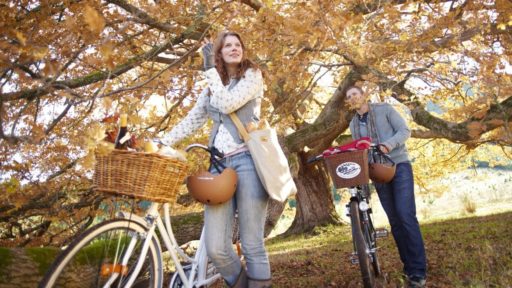 Pedal to Produce is the perfect foodies holiday: cycling from a quaint village café, down a country road to taste award winning wines and onto a farm gate to pick up some fresh regional produce and meet the farmer who grew it.
Pedal to Produce includes the renowned food and wine regions Rutherglen, Beechworth, Glenrowan, Milawa, King Valley, Mansfield, Myrlteford, Bright and the Kiewa Valley where you can visit cellar doors, local breweries or drop into a café for a coffee. If you're hungry you can refuel at one of the many bakeries, restaurants and food producers along the way.
Through a combination of the Murray to Murray to Mountains Rail Trail, quiet country roads, farm gate producers, cellar doors and spectacular scenery this make for a compelling experience.
Visit the Pedal to Produce website for more information.
| Business Name | Telephone | Street Address |
| --- | --- | --- |
| Myrtleford Hotel Motel | 0410 669 908 | 67 Standish Street |
| Golden Leaf Motor Inn | 03 5752 1566 | 186-188 Great Alpine Road |
| Motel on Alpine & Range Restaurant | 03 5752 1438 | 258 Great Alpine Road |
| Railway Hotel & Motel | 03 5752 1583 | 101 Standish Street |
| Cafe Fez | 03 5751 1155 | 145 Great Alpine Road |
| Alpine Gate Cafe | 03 5752 1375 or 0428 213 538 | 38 Myrtle Street |
| Heiners Bakery | 03 5752 1430 | 87 Standish Street |
| Myrtleford Bakehouse | 03 5751 1642 | Corner Myrtle and Standish Streets |
| Delizie Cafe Deli | 03 5751 1772 | 72 Myrtle Street |
| Buffalo Hotel | 03 5751 1400 | 49 Clyde Street |
| Myrtleford Hotel | 0410 669 908 | 67 Standish Street |
| Carlo's Pizza & Pasta Bar | 03 5752 2895 | 107 Myrtle Street |
| Myrtleford Savoy Sporting Club | 03 5751 1296 | 252-254 Great Alpine Road |
| Jade House Chinese Restaurant | 03 5752 2850 | 11 Clyde Street |
| Coffee Chakra | 03 5752 1133 | 105 Myrtle Street |
| Jessie James Milk Bar & Take Away | 03 5752 1049 | 143 Myrtle Street |
| Myrtleford Chinese Restaurant | 03 5752 2631 or 0419 211 853 | Shop 1, 146 Myrtle Street |
| Roma Pizza Bar & Restaurant | 03 5752 1867 | 56 Standish Street |
| Ruby's Takeaway | 03 5752 2684 | 37 Smith Street |
| Tu Vietnamese Street Food | @tumyrtleford | 109 Myrtle Street |
| Michelini Wines - Check if food available | 03 5751 1990 | 213 Great Alpine Road |
| Reclaim Wine Bar & Cafe | 03 5751 5609 | 55a Standish Street |
| Lupos Cafe | 03 57522310 | 134 Great alpine Road |
| Happy Valley Hotel | 03 5751 1628 | 4994 Great Alpine Road |
| Eaglerange Estate - Check if food available | 03 5752 2518 | 228 Happy Valley Road |
| EUROBIN | | |
| Bright Berry Farms | 03 5756 2523 | 6300 Great Alpine Road |
| The Red Stag Restaurant | 03 5756 2365 | 324 Hughes Lane |
| Baltazar Vineyards | 03 5756 2661 | 6268 Great Alpine Road |
| Mount Buffalo Vineyard | 03 5756 2523 | 6300 Great Alpine Road |
| GAPSTED | | |
| Gapsted Wines (Victorian Alps Wine Company) | 03 5751 1383 | 3897 Great Alpine Road |