With an array of regular and special event markets held in Myrtleford throughout the year you have ample opportunity to buy some local produce and handmade wares...
Myrtleford Cotters Market – Local produce and product market
A unique market for local producers of home-raised produce and handmade art, crafts, food & wares. All traders must live within a 1 hour drive from Myrtleford (including Albury). All wares for sale must be grown or substantially made by the stallholder - no mass produced goods. Shoppers at these weekend markets have been able to find a range of unique, quality, hand-crafted foods & wares in an intimate, exclusive environment. This year's upcoming dates;
Sunday 28 September, Sunday 2 November and Sunday 7 December.
Myrtleford Community Produce Market – Every Saturday
Locally sourced vegetables and fruit, freshly harvested from farm and garden. Honey, preserves and chutney are also available. This market has around 5-10 stalls and is held every Saturday from January through to March from 8.00am till noon, at St Pauls Hall grounds.
Myrtleford Flea Market – Second hand/trash and treasure market
Held on the second Saturday of each month at the Old School Museum, 9am to 12pm – find a hidden treasure at this regular market selling second hand bric-a-brac and more.
Myrtleford Bush Market – Annual Street Market
Held annually on the first Friday of January, the Myrtleford Bush market offers a wide selection of stalls with many showcasing local food and wine. This market is one of the biggest markets on the annual calendar, one not to be missed!
(The 2015 Market is Friday, 2 January)
La Fiera Italian Festival – Food and Wine Street Market
La Fiera celebrates Myrtleford's strong Italian heritage during May each year. With over forty food and wine experiences and stalls to enjoy including winery tours, cooking classes and mushroom forages, you will learn about the traditional Italian way of life.
Myrtleford Festival – Street Market
March Labour Day Weekend annually – this festival celebrates the Myrtleford community with a huge street market showcasing the best local and regional produce as well as gifts, clothing, crafts and more. Entertainment on the big stage and a food and wine court are also features of this great celebration.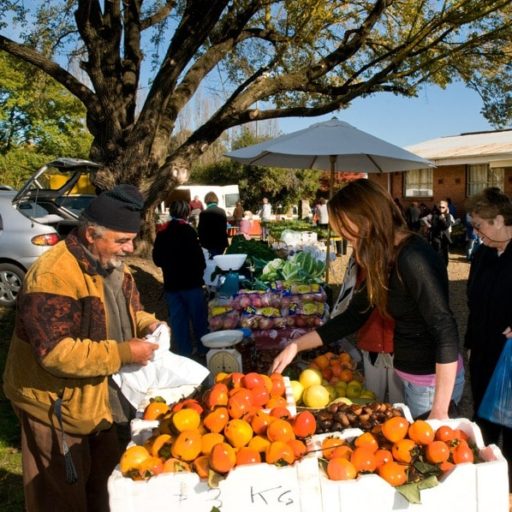 Myrtleford Central Markets (Indoor/ Outdoor Market)
The only indoor/outdoor market in the North East - Warm in winter, Cool in summer.
Operating every Saturday from 23rd August 9am – 2pm and held at 4-10 Clyde Street, Myrtleford
Locally grown, locally made, and locally operated! A community market for locals and visitors alike, working together to create a sustainable future for all. We will also be encouraging one-off garage sales and vintage stores creating a sense of community and adding a great vibe to Market Day. Look at their facebook page for more information.